A.PROF. LE VAN THO
Technical advisor BIO-PHARMACHEMIE
 
Mastitis-metritis-agalactia syndrome (MMA), is a complex syndrome in sows, occurs after birth in a short time from 12 hours to 3 days. The disease is caused by an infection of mammary gland or urogenital tract. MMA leads to increased piglet mortality and reduced weaning weights.
Mastitis: As a result of bacterial infection into udder, often caused by E. coli. In many cases, only one or two mammary glands are affected. Mastitis is also a consequence of metritis.
Metritis: caused by the infection of uterus during gestation. The inflammation occurs in the endometrium. A typical clinical sign is vulval purulent discharge.
Agalactia: a reduction of milk production by the sows. Often not detected until piglets showing starvation           
           
ETIOLOGY
MMA is a multifactorial disease:
Bacteria: E.coli, Klebsiella spp, Enterobactrsp, Mycoplasma spp, Streptococcus, and Staphylococcus.

Endocrines: influence to farrowing and lactation.

Nutrition: deficiency of fiber, fat, or vitamins E and calcium in dietary; a lack of drinking water; and feeding sows with high carbohydrate during pregnancy.

Management: dystocia, inappropriate manual intervention may cause metritis, insufficient exercise for sows.
 
PATHOGENIC
Stress during farrowing can lead to increase cortisol secretion in sows → natural immune deficiency → increase in E.coli in mammary gland → MASTITIS.
E.coli infection of the udder → septicemia caused by endotoxin → decrease Cytokines secretion (IL1,6,TNFα) → decrease Ca & K → teat sphincter failure (open teat) → bacteria intrude into udder → MASTITIS.
Stress during farrowing in sows → decrease Oxytoxin secretion → decrease Protaglandin F2α secretion → bacteria intrude into vaginal then uterus (because cervix is open) → METRITIS.
Septicemia caused by endotoxin→ decrease Oxytocin and Prostaglandin F2α secretion → decrease Prolactin secretion → AGALATIA.

CLINICAL SIGNS
Sow: Sows with MMA syndrome often show signs of constipation, fever over 39.5 ° C and decrease food intake for 1-2 days.  Lose appetite, anxiety, reluctant to suckling piglets because of painful, the sow does sternal recumbency to hide all her pain udders. Sometimes these symptoms happen separately, but sometimes they can appear the same time (mastitis, metritis, agalactia).Hard udder inflammation, swelling, redness, pain on palpation. Lower milk production. Purulent discharge from the vulva with milky like, and fishy smell.
Piglets: decrease average daily gain and hunger is most visible signs. Besides, they possibly have diarrhea, and hypothermia.
DIAGNOSIS
Diagnosis is depends on clinical signs, especially loss of appetite in sow. Palpate mammary glands, if inflammation occurs, they will be harden and redness. Purulent discharge from the vulva. Piglets reduce weight gain, diarrhea, and hypothermia.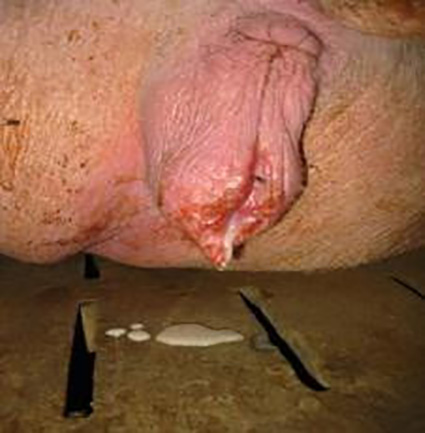 Purulent discharge from the vulva
because of MMA syndrome
TREATMENT
MMA syndrome treatment should include antibiotics injection, uterine suppository for local treatment and lactating stimulant. The treatment is performed immediately after the sows being diagnosed with MMA syndrome or when sow temperature increase to 39.5 ° C after farrowing 12-18 hours.
 The treatment protocol:
Antibiotics injection: These following antibiotics are effectively for MMA syndrome treatment: BIO-CEFQUIN, BIO-CEP 5BIO-CEP 5, BIO-AMOX LABIO-AMOX LA, BIO TETRA 200 L-ABIO TETRA 200 L-A, BIO-GENTA.AMOX INJBIO-GENTA.AMOX INJ ®, BIO-D.O.C ®, BIO-FLORSONEBIO-FLORSONE 400 LA, ...
Typically, BIO-CEFQUIN is belong to Cephalosporin group, a latest generation so haven not yet resisted, thus very effective in treating swine with MMA.
Uterine infusion or douches by BIODINE® with the dose of 3ml/ 2 liters of boiled water, after douche is complete, wait for water almost flow out then insert BIO-VAGILOX into uterus.
Either mix BIO-CALCIUM 20ml with BIO-CEVIT 10ml administrate into sow ear vein or dilutes with BIO-GLUCOSE 5% for intravenous infusion.
Inject BIO-OXYTOCINBIO-OXYTOCIN with low dose: 1 mL / sow, (equivalent 10IU / sow) can be a well-supported treatment.
Medication BIO-METASALBIO-METASAL for sow quickly recuperate after birth. Sows must be drinking regularly by encourage her to get to watering station.
             In term of sow sickness, piglets will certainly be affected from their poor lactating mother, piglets can be fed sows milk replacer BIO-MILK ®BIO-MILK ® to provide adequate energy and prevent from dehydration for piglets. Simultaneously, cross-fostering piglets to high lactating sow and similarities in time.

CONTROL AND PREVENTION
The most effective of preventing MMA syndrome was good sanitary conditions for both sows and farrowing cage to prevent microbial infection into mammary gland and uterus. This requires the use of disinfectant (BIODINE ®, BIOXIDE or BIOSEPT).
• Well wash sow prior to farrowing cage. Where should be kept CLEAN and DRY during lactation.
• After farrowing, inject 1 dose BIO-CEFQUIN to prevent infection.
• Put the BIO-VAGILOX suppository immediately after farrow, consecutive 2 days.
• Encourage the sow moving regularly to avoid MMA syndrome.
• The floor should not slippery, which cause sow afraid moving and reduce activity.
• During pregnancy must control the sow diet to avoid overweight.
• Ensuring adequate clean water for sows. A lactating sows need 15 to 30 liters of water per day.
• Keep the farrowing cage quiet, ventilation to reduce stress for sows during farrowing.        
INSTRUCTIONS FOR REASONABLE SOWS FEED
            -The time from pregnancy to moving to farrowing cage: feeding 2-3kg / day depending on the size of the sow.
            -Two days before farrowing, reduce feed to 1-2 kg / day.
            - After farrowing, feed is increased 0.5kg / day until the sow eat about 5 kg / day.