Associate Professor. LE VAN THO
Technical advisor for BIO-PHARMACHEMIE Company
 
Chronic Respiratory Disease (CRD) in poultry has some common symptoms such as: wheezy breathing, face swelling. This is typical disease in poultry in transition season, occurs in all ages. Chickens in 3-6 weeks of age and laying hens, however, are more susceptible than other group of ages.
Causes: The disease caused by Mycoplasma gallisepticum bacteria. Mycoplasma mainly live in poultry body and causes disease. When spread out of the body, they can only exist 1-3 days in feces, livestock instruments or 4-5 days in mucus.
Most of disinfectants can kill Mycoplasma, some products from Bio Company include BIOXIDE, BIODINE ®, BIOSEPT are very effective with Mycoplasma and other pathogens like virus, bacteria, spore and fungi.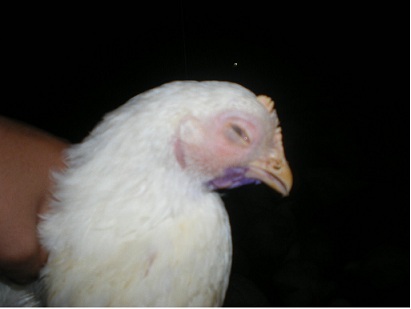 Chronic respiratory disease in chicken
Chronic respiratory disease in chicken
Transmitted vector: Mycoplasma is transmitted through respiratory tract, directly contacts between a disease chicken and normal ones, through contamination of water, feed, livestock equipment or organism in the air. It can also be transmitted through eggs if breeders are infected, pathogens transmitted to eggs, after incubation time chicks will get CDR. It can easily become outbreak when whether changed, especially in rainy season, when the humidity in the air is higher or because of live virus vaccination, beak-cut, concurrent infections, cages changed…
Symptoms: Some major clinical signs includes head-shaken, face swilling, closed eyes, distress, eye discharge, nasal discharge, sneezing, difficulty breathing. Chicken are anorexia and slow growth, decrease reproductive rate up to 10-40%, low hatched rate and weak chicks.
Recently, chicken chronic respiratory disease combined with E.coli happens very common. In these cases (C-CRD), chicken usually high fever, mortality rate could up to 30%. In layer, eggshell could be distorted and flecked with bloody streaks. The disease can lead to low treatment results if farmers do not choose a right special medication (we will introduce new special drug for C-CDR at the end).
Lesions:  Hemorrhagic inflammation in the upper respiratory tract, thick and opaque light yellow air sacs, perihepatitis, pericarditis, pneumonia. In laying hen also be oviductitis.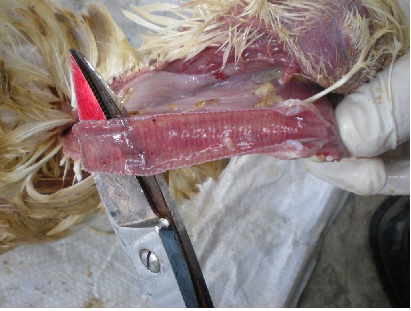 Tracheal hemorrhage
Prevention: CRD usually occurs in transition season or weather changes, when poultry are stress, so prevention measure must be followed these following steps:
+ Breeder should be bought from breeding farm without CRD.
+ Housing must be well ventilated, periodic disinfection, the incubator must be disinfected well.
+ Fully supply various kind of vitamin, especially is BIO-VITAMIN C 10%, BIO-VITA-COMPLEX, electrolytes like BIO-ELECTROLYTES to improve immunity.
+Prevention by antibiotics: noticeable that nowadays there are 3 groups of antibiotic have effective to Mycoplasma encompass: Tetracycline, Macrolide and Quinolone. Farmer can use one of the two following products in one of sensitive antibiotic groups above to prophylaxis whenever the weather changes: BIO-TYLODOXPLUS or BIO-TILMICONSIN.
Treatment:
BIO-TILMICONSIN is very effective to CRD in poultry. Dose: 1ml/12,5kg BW or 0.3ml/liter of water, continuously in 3 days.
If suspect that CRD combined with E.coli, farmer should use special medication BIO-TYLODOXPLUS, strongly effective with CRD combined with E.coli.
Moreover, we need to provide electrolytes likes BIO VITA-ELECTROLYTES or BIO-ELECTROLYTES to improve poultry's immunity.
Housing have to always ventilated, provide enough clean water, good feed and stable nutrients.